Bar-Globes.com: The Place To Shop
You have seen beautiful, classy bar globes on movies, tv shows, offices, shops and probably even in someone's home. They are really just one of those awesome items that every gawks at. A beautifully ornate globe that opens up to reveal liquor bottles, glasses, and small barware – what could be cooler than that? Owning one, of course!
Bar-globes.com is the largest bar globes shop online and has the biggest collection of absolutely breath taking globes. We offer some truly unique choices, from normal globes to antiqued globes, beautiful colors like Blue Ocean, where the oceans on the globe stands out so bright against everything else. These are truly some of the most beautiful bar globes that you just cannot find anywhere else in the world. Discover the Bar Globe World.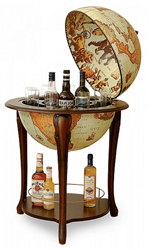 World Globe Bar Set
Old world bar globes are truly a unique conversation piece when you want them to be and a great way to hide your favorite, expensive liquors away. You can find them in all different sizes, from small enough to fit on your desk to large, freestanding globes that can take up a few feet in diameter. No matter what size you're looking for, what colors you love the most, or even what type of stand you have been searching for, Bar-globes.com has it. Most other sites out there that sell bar globes have nowhere near the different types of bar globes that you'll find on our site. Plus, our globes are the highest quality, ensuring that you have an heirloom that you can pass down for generations.
To top it off, we have the best pricing that you will find anywhere as well as worldwide shipping. Live in a different country beside the US, Russia or UK? No problem, you'll find an easy to use currency converter right on every page that will help you see exactly what the prices are on your favorite model. Don't waste your time on cheap imitations, Bar-Globes.com is the place to find those gorgeous items that you have been wanting for years. You will find so many beautiful bar globes here that you may just have a hard time picking out just one.